What a great achievement buying your first house is! Of course with the euphoria are also some butterflies. I bet you'll likely want some expert suggestions along the way -- and you'll certainly want an experienced real estate agent looking out for your top interests. As an experienced in Morganfield real estate, I'm absolutely qualified to help you purchase your first home.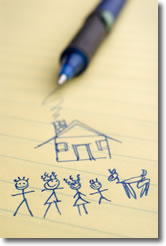 Not everyone with a real estate license is equally equipped to help YOU find a home. My dedication to you, my client, is what sets me apart. Here are some things you can count on when you use Red Hat Realty and Auction for your first time home purchase.
The process of buying a house has a considerable amount of steps. I'll be there for everything from finding the ideal house among all the properties available in Morganfield, to providing expert guidance on closing costs and everything in between.
I'll assist you with establishing your wish list of features that you want in your house, your neighborhood, and your school district.
I can walk you through the multiple mortgages and home buying programs handy and the mind-boggling financial factors of purchasing a house.
I will make sure you see all the properties that match what you're looking for, and keep an eye on all brand new listings.
I'll do my very best to drive out all the stress and strain that goes along with purchasing a home.
Finding the ideal house for you in the Morganfield area is my business, and I'm ready to go to work for you.

Don't see the perfect home for you here? Just give me a quick call at (270) 389-0370 and I'll give you a list of all the properties in the Morganfield area that meets your needs.